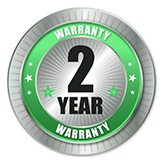 We offer a true 24 month warranty covering the entire system from any manufacturer defects in parts or labor which means that you are covered from the bulbs in the water to the plug on your dock. We take great pride in each and every system we deliver and know that they will provide you years of enjoyment without problems.
FULL 2 Year Warranty Details
This unit will be covered for 2 years (to the original customer with receipt) from the date of purchase for any manufacturer defects. Any defective parts will be replaced or repaired FREE of charge, however the customer must make arrangements for shipping the unit back to us. This warranty does not cover bulb breakage or any damage to the unit by boats, props, or fishing hooks etc..
In the unlikely event of a unit failure, the customer agrees to unplug the unit until they have spoken to us regarding a potential problem. The unit must be shipped back to the FL Fish Lights at the purchasers expense for inspection. If the unit is found to be defective a repaired system or new unit will be shipped to the customer at our expense. If the unit has been found to be modified, tampered with, or misused in any way damage will not be covered by warranty.
Fish showed up on the first night and have been piling up on these lights ever since.  I'm sitting on the dock for hours just watching snook smash bait, and last week we even had a small tarpon show up for a while.
I've lived on the water in Florida for over 10 years now, and I've quite a few other underwater light systems.  Yours is by far the best one hands down!  The light is a beautiful green, and the fish are drawn to it like nothing I've ever seen.
These lights are so bright that I cannot believe how much area they cover.   Our house sits at the corner between the main channel and the canal so we have a lot of waterfront and I wanted a system that would light up the entire back area.  Your lights did the trick!  Thanks for all the help.
Safety Disclaimer – Please Read Carefully
If for any reason your system should stops working, please unplug the system immediately and then call us directly for assistance.
We take our responsibility to provide you with a safe and reliable product very seriously and ship every unit with an integrated GFCI plug that should be plugged into a GFCI receptacle at all times.  Please do not use extension cords to connect your light system.  Please do not swim near our lights while they are plugged in.  Our underwater lighting systems are designed and tested to shut down if there is any interruption of power or faulty ground, however the possible dangers of electricity and water are not worth the risk.  Please be sure to unplug the system before getting in the water.
The manufacturer/designer/seller of this product is not responsible for any injury/ death/damage to property caused the by the use of this product. Take any and all safety precautions when using this product. This system must be plugged into a UL Approved GFCI outlet. The purchaser agrees to the above by purchasing this system. If you do not agree to these terms, please call us to promptly return your system for a full refund.