Your Satisfaction Guaranteed!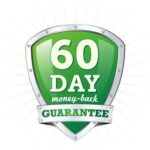 Our customers have placed our HID underwater fish and dock lights in virtually every waterway all across Florida. Our underwater lights are in use by satisfied customers in saltwater canals, intercoastal waterways, lakes, rivers, and bays. If you are not absolutely thrilled with how your system looks, and effective the light is at attracting fish, simply return the light within 60 days and we'll issue you a full refund of the purchase price.
Guarantee Details
Florida Fish Lights is proud to offer a 60 Day Money Back Satisfaction Guarantee. This allows you to try the product in your waterway for a total of 60 days from the delivery date. If for whatever reason you are not satisfied with the product, you can return the system for a full refund of the purchase price.
Satisfaction Guarantee Disclaimer: The returned product must be in working, non-damaged condition to qualify for the 60 day guarantee. Components damaged by the customer through improper handling may void the guarantee, or force us to offer a pro-rated refund. Our guarantee is intended to provide you with a trial period to see these amazing lights. We know that we are making a quality product, that will enhance your waterfront property and attract fish anywhere they swim, but we cannot guarantee the environment or your personal situation, and so this is our way of offering you additional piece of mind before your purchase.